Dives & Destinations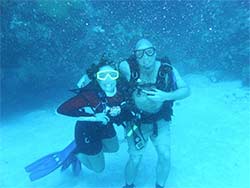 Mother Nature does dictate a lot of our choices here at Lost Island Voyages. We go where the wind takes us, and we have no control over the weather. While this is true and does affect our last minute decisions, we are open to planning all different types of charters in the many areas of the Bahamas.
The majority of our trips are seven day charters that leave out of Nassau, New Providence, but we are open to planning a charter tailored to a more unique schedule if you call us and plan well in advance.
For example, we will do an occasional trip out of Grand Bahama, which may allow us to go to Bimini, or we may do a ten day trip out of Nassau that could take us all the way south to San Salvador or Conception Island for less frequented diving.
If you have a group that is interested in something off the beaten path, please call us for availability and we will try to work something out with you.
The following are just a few of our primo dives and activities in different locations throughout the Bahamas.
Nassau
Trinity Caves - This shallow site has a ledge drop off from 20 to 40 feet and is pockmarked by shallow caves and is home to one of the largest varieties of tropical fish. Big parrotfish and snappers are found here, and you can also find the not so common soapfish or brisselworm. Silversides flood the caves until you peek inside to find hidden creatures like eels, lobsters and crabs.
Lost Blue Hole - One of the Bahamas' many Blue Holes, Nassau's is 220' at depth and 100' wide. Enjoy the feeling of descending into a dark abyss and then peering back up to see beautiful blue. Take a flashlight and enjoy all the colored corals along the walls. At about 70' there is a cavern which is frequented by lobsters. Schools of horse-eyed jacks pour into and out of the hole and in the summer months you might encounter hundreds of silky sharks. Nurse sharks, puffer fish and turtles also tend to hang out near the hole.
Tri Wrecks - Here lies three inter island freighters that were sunk as artificial reefs. A big green moray eel lives here and you can weave your way through wreckage anywhere from 60 to 100'. Gaze through the swarms of silversides to find barracudas, African pompano, and even the occasional hogfish.
Grand Bahama
Theo's Wreck - This large freighter was a cement ship that was sunk as an artificial reef right on the edge of the wall and sits at 110'. Large groupers, snappers, jacks and hogfish frequent the site.
Sea Star - Another artificial reef, this inter island freighter is 250' long and the bow sits in the reef at about 65' while the stern sits at about 90'. Check out the wreckage while keeping your eyes peeled for big fish.
Lucayan Caves - This large reef system is conveniently located right off Lucaya. It is home to spur and groove reef with a drop off from 50-70'. You can find reef sharks, large turtles, and anything that may come off the nearby wall from the depths below.
Bimini
The Strip - This 40' deep site features a 200' long strip of low profile coral heads that are teaming with marine life. Too many species to count inhabit this small reef system. Look carefully for the half dozen spotted scorpion fish that live here as well as the green spotted and goldentail morays.
Victory Reef - One of the premier reef systems in the Bahamas. This 35' - 70' sloping reef extends for over a mile and makes for a breath taking drift dive when the Gulf Stream current reaches this far east. When the current is slack, this site offers anything from juvenile spotted drums to large pelagic.
Hesperus - If you are a fan of turtles, you will love this wreck dive. On any given night, a half dozen or more enormous loggerhead turtles come to visit this wreck which sits in 18' of water on the Grand Bahama Bank. Greater amberjack, cobia, nurse sharks, lemon sharks and dozens of barracuda are amongst the other large creatures encountered here.
Sapona - This famous concrete wreck is equally rich in history and marine life. The depth is 15' but the top of the wreck is 33' above the surface. Dive or snorkel through the wreck in a non-overhead environment and be greeted by large, smiling porcupine fish. See if you can find one of the 50 caliber shells that are now encrusted in coral.
Eleuthera
Hole in the Wall - Amidst this field of large profile coral heads, keep your eyes peels for teeny-tiny nudibranchs and you might just find the painted elysia. But you don't have to look quite as hard for the hole which is at 65' and will take you through a tunnel and shoot you out right over the deep blue wall at about 90'.
Split Coral Head - This 30' coral head sits in 60' feet of water and is frequented by several Caribbean reef sharks. Explore the head for fighting channel cling crabs, or cruise with sharks along the wall which is just a short swim away over a sandy area filled with garden eels and frequented by sting rays.
Cobia Cage - A Cape Eleuthera Institute project, this cage homes cobia and looks like a giant spaceship underwater. Be prepared to get some really cool underwater shots at this site. Swim with schools of yellowtail snappers and explore the cage from 30' to 90'. And if that isn't enough for you, you may find yourself dropping off the wall at about 95' where you can find colorful coral, turtles, and amberjacks.
Exuma Chain
Barracuda Shoals - Kept healthy by the amazing flow of water across these corals, you will find striking colors which make for a spectacular shallow 30' dive. During slack tide, large groupers will explore this site with you as you find lobsters, snappers and other tropical colorful wonders including the beautiful angelfish. Check out cages underwater from a diadema relocation project.
Austin Smith - This former coast guard cutter was being towed when it sunk right off the Exuma chain and the 95' wreck remains in tact. Carribean reef sharks tend to hang out here along with turtles, big lobsters and huge groupers.
Dog Rocks - Just one of the several spectacular walls off the Exumas that drop off from 60' to a thousand feet deep or more. With beautiful brain corals and exciting swim throughs including a spot named "The Cathedral" for its heavenly beauty and huge stony pillars of coral.
Jeep Reef - This maze of high profile coral heads is a tropical fish nursery riddled with surprises that include a jeep and statue of a mermaid, along with your more natural features such as large hard coral formations and the occasional turtle.
Exuma Land and Sea Park - With the headquarters located on Warderick Wells, this is a popular spot for cruising vessels to stop and swim, snorkel, kayak or spend the night in an anchorage. There are beautiful nature trails leading serene beaches and gorgeous views of the island, anchorage, and the Exuma Sound. The park homes the skeleton of a sperm whale and baby pilot whales as well.
Staniel Cay
Thunderball Grotto - Featured in movies such as James Bond and "Into The Blue," this beautiful 15' dive takes you into a hollowed out rock after you've checked out its colorful, fish-filled surroundings. The 20' ceiling is filled with natural skylights which light up this fishbowl of sea life. There are many entrances, and depending on the tides, you can enter them via scuba, snorkel, or freediving. You could even enter from above if you're into the adrenaline rush of a short cliff jump.
Rocky Dundas - Snorkel or dive these caves full of wonder and beauty. Right outside the entrances to the two caves you can find elkhorn coral and tropical fish galore. Inside there are little cave-lets to get pictures or sit back and bask in the glory for a bit.
Swimming Pigs - Yes, you read that right. A small island right outside Staniel Cay is home to wild pigs that you can sometimes lure off the beach and into water with the right bribery. That is where you will come to find out that they may be able to swim faster than you! This makes for a great photo opportunity.
Cat Island
Cocktails By the Sea - Ever pictured the cutest little beach bar right on the ocean? This is one of our favorite little spots to stop and hang out with our friends in Cat Island. Drink an ice cold Kalik in a lounge chair as you listen to waves crash the shore, or get schooled in Dominoes by the locals while you enjoy a Rum and Coke.
San Salvador
Dr. Dolittle, Twin Caves, Sand Cliff and Dr. Johns - While trips to San Salvador are not as frequent for us, its dives are among our new favorites as we have gotten the chance to explore this area a little more in the last couple years. These are some of the our newest finds and are all superb dives characterized by high profile coral heads, giant fun-house mazes of swim-throughs, and deep blue wall plunges. Prepare to be amazed as your chances of seeing a hammerhead skyrockets and while you are petting giant, friendly groupers who follow you through a maze of shoots, ledges and caverns.
Conception Island
Anchor Chain Wall - While we do not know the details of this chain, we assume a freighter at the turn of the century must have dropped its anchor in a hole off the wall and couldn't retrieve it. They may have opted to cut the chain and leave it where it has laid for decades accumulating large sponges and coral growth. But be careful as you follow the chain down the wall, because there is no end in sight. And let's hope a ship isn't attached to the other end! Narrow sand channels intersect the coral overhangs of this site providing interesting areas to swim through.
Sundrop Wall - On this wall you may spot huge elephant ear sponges and a variety of barrel sponges. You can swim along the edge of the wall and spot lots of coral and fish life in the 65'-85' range. We have even had a dolphin swim with some of our passengers on this site. People always picture dolphins to be jumping and splashing out of the water, but imagine them doing circles and spins around you while your 60' under! Pretty amazing!
Grouper Gorge - You can start your dive on a coral mound in the reef at about 55'. Along the way around this site you may find an overhang which leads into a large cave with a swim through leading down to about 85'. This cave is home to several large grouper. You will probably find several reef sharks hanging out along this wall keeping tabs on you.