The Avalon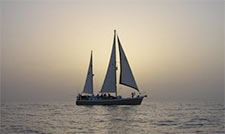 The Avalon is a sixty-five foot ketch rigged sailboat that was built with a shallow draft to allow us to enjoy live aboard sailing, diving and exploratory charters throughout the Bahamas. Topside is equipped with cushioned seating inside the horseshoe, and a nice chaise lounge that seats three. Plenty of deck space toward the bow allows for sun tanning or relaxing in between dives. We also have floating mattresses on board if you prefer to do your lounging in the water. And after a nice dive, swim or snorkel, there is a fresh hot and cold-water rinse topside.
Below decks, the main salon comfortably seats twelve with audiovisual entertainment. We have six cabins with en suite sinks. Five of our cabins have double bunks that can be made into a double with a single upper bunk, and we have one cabin that has two single bunks. Avalon is equipped with two push-flush heads and two hot-water showers. All living quarters are air-conditioned.

Try your hand at deep-sea fishing, spear fishing, or halyard swinging as we have all these things available on board along with diving cylinders. Please Call the office for details on pricing. The Avalon is your hotel, restaurant and taxi on water. All accommodations, meals and beverages including soda, lemonade, beer, wine, rum and vodka (and of course an icemaker and a blender for mixing up fun drinks!) are included in the price of the trip. $60 Bahamian port fees and tips for the crew are not included. As the live aboard industry is a service industry, we suggest 15-20% of the regular trip price depending on your satisfaction during the trip. Once again please Contact Us for more information on pricing.
The Avolon's Technical Specifications and Features
SPECIFICATIONS

Length - 65 ft
Beam - 18 ft
Mast Height - 62'
Sail Area- 1400 sq ft
Sail Rig - Ketch
Draft - 5ft
Cabins - 6
Shower - 2
Heads - 2
Watermaker
Icemaker
Scuba Diving Compressor
12ft Inflatable Tendor

ELECTRONICS

One of three Garmin Test
Sites for the latest in
electronics.
Satellite Phone
VHF Radio
EPIRB
Hand Held radio
Auto Pilot
Depth sounder
Radar
Garmin 5212 GPS
Flat Screen TV
DVD Player
Stereo Above/below

SAFETY GEAR

25 Peson Liferaft
Trauma Kit / Oxygen
First Aid Supplies
Chase Boat

AVAILABLE

Fishing Gear
110 VAC
Spearfishing Gear
Rental Dive Equipment
Meals Aboard the Avalon
If you have any allergies or special requests for food or drink, our cook is happy to work with you as long as we are notified well in advance. If we know ahead of time, we can make sure we supply in the U.S. where there are lots of options for people who are vegetarian, vegan, gluten-free, dairy-free etc. as opposed to the Bahamas where options are limited. If you have any questions or concerns about this, please do not hesitate to Contact Our Office and we will put you in touch with our cook.
Sample Menu Items Aboard The Avalon
Breakfasts:
Toast, bagels, cereal, oatmeal, fruit and Orange juice are always available for breakfast.
Blueberry pancakes and syrup, sausage links, scrambled eggs o'brien
Muffin-tin mini quiche with ham, veggie and cheddar
Bacon and fried egg sandwiches on English muffins
Seasoned potatoes, sausage and egg breakfast burritos with homemade salsa
Scrambled egg jambalaya with pan
fried chicken and apple sausage, peppers, onions, mushrooms and tomatoes
Cinnamon apple waffles with bacon and crispy fried hashbrowns.
Lunch:
As a lighter side option, salads are served with almost every meal.
Apple and raison chicken salad sandwiches with potato salad and homemade sundried tomato hummus with veggies
Assorted home made pizzas on pita bread with Caesar salad: mushroom and sausage, caramelized onion and blue cheese, pepperoni, Hawaiian, fresh veggie, tomato basil, BBQ chicken
Turkey, apple and Brie cheese Panini's with chipotle raspberry drizzle and deviled eggs-Honey mustard chicken and coleslaw wraps with sweet pasta salad
Greek chicken and veggie pitas with feta cheese and homemade tzatziki sauce served with steamed baby red roasted potatoes
Cajun spiced chicken and veggie quesadillas with homemade guacamole and fresh salsa served with beef and bean taco soup
Dinners:
As a lighter side option, salads are served with almost every meal. Homemade bread is often served with dinner as well.
Sesame ginger salad with peanuts, shrimp and egg fried rice with homemade spicy Thai peanut sauce, and stir-fried broccoli, carrots and cabbage alongside sesame seared salmon with teriyaki sauce
Blackened Mahi Mahi and fried onions over rice with pineapple salsa and Cuban-style black bean soup
Dijon rosemary chicken with balsamic vinaigrette served with Parmsean mashed potatoes and steamed green beans
Pork rollups stuffed with jalepeno cream cheese, mushrooms, and roasted red peppers, served with wild rice and roasted root veggies
Brown sugar and clove ham with pineapple glaze served with baked potato and cracked pepper asparagus with mushrooms
Fresh mozzarella, tomato and arugula salad with lemon basil shrimp and chicken served over linguine with capers and summer veggies
Some fresh catches that our cook loves to play with if you can round them up are lobster (season is August 1st - March 31st), crab, conch, tuna, Mahi Mahi, snapper, grouper and lionfish. These delicious catches allow our cook to whip up some local Bahamian dishes such as ceviche, sushi, sesame-seared tuna, lobster tails, lobster bisque, conch salad, cracked conch, conch chowder, fried fish fingers, etc. You catch it, we'll cook it!
Desserts:
Peanut Butter Pie
Homemade Twix bars
Apple Crispy Tortilla Bakes with Homemade Whipped Cream
Key Lime Pie
Chocolate Chip and Banana Nut Bread-Bread Pudding with Butterscotch Sauce
Peach upside down cake with Coffee Whipped Cream