About Lost Island Voyages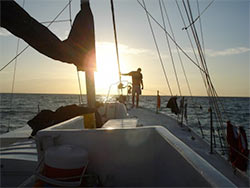 The Avalon is a sixty-five foot ketch rigged sailboat. It was built in Miami, Florida by charter boat pioneer, Jack Ott. He built a fleet of charter boat vessels that operated in South Florida.
Iowa natives Ray and Jeanie Temeyer purchased one of Jack Ott's boats in 2001 and the Shark 12 underwent a complete re-fit to become the Avalon. Ever since, the Avalon has been taking people out on sailing, exploring, and diving charters throughout the magical waters of the Bahamas.
Ray came down the Mississippi River from Dubuque, Iowa on the Cindy Marie, across the Gulf of Mexico to Miami and then to the Bahamas. After spending a year on a "round the world expedition" with the farm-couple from Iowa who had built the Cindy Marie, he later spent a year crewing aboard an inner island cargo ship in the Caribbean.
After discovering their love for the ocean, high school sweeties Ray and Jeanie found themselves the first captain-cook team aboard Blackbeard Cruise's first boat, the Sea Explorer. And with that came some adventures of a lifetime for these Midwesterners.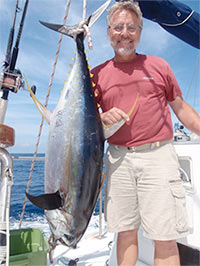 Among their travels, they spent time working in the oil fields of Kentucky and back in Iowa with Jeanie teaching and Ray working for John Deere. But you know how people say, "the grass is always greener on the other side"? Well in their case, the seaweed was greener and they found themselves back in Florida and the Bahamas with the ocean at their side. Three children later, Ray and Jeanie purchased the Avalon, and decided to start their own sailing and diving charter business, now known as Lost Island Voyages. They have been running this family business single-handedly since 2001.
Lost Island Voyages strives to make each trip a unique experience. With only twelve passengers, they are able to customize each trip to accommodate every individual need. Lost Island Voyages welcomes non-divers, as well as divers. Beach parties, creek tours and island exploring are among some of their favorite activities alongside extraordinary diving and unbelievable sunsets. From Bimini and Grand Bahama, to Nassau and the Exuma Chain all the way down to Conception Island and San Salvador, Ray has spend the last thirty-plus years gathering knowledge of the Bahamian islands, waters, winds, creatures, culture and way of life. He uses all this to put together the perfect trip for those who yearn for incredible diving or snorkeling, and the unknown adventures that await them above and below the waterline.